Culture
How We Support Our Customers at DNSimple
DeAndre Harris
on
All-hands support is a core value at DNSimple. We've used it from the very beginning, and it works well for us. It's the best way to understand our customers and their pain points. It also helps us provide our customers with the best experience using our services – because nobody knows our services better than us.
Six years ago, our CEO wrote about how we support our customers at DNSimple. As the latest addition to our Customer Success team, I'd like to take a step back and reflect on our support journey over the last few years.
Let's take a look at how things started, how they're going now, and what we've been doing with all-hands support.
Introducing Customer Success at DNSimple
DNSimple is a small team of mostly developers, so when you receive a support response, it's usually from one of those developers. But the last few years of growth have meant we needed to adjust how we approached support. We needed more structure, someone for the team to answer to – when everyone is in charge, no one is in charge. Something needed to change.
Our first customer-focused hire was our VP of Customer Success, Sarah, in April 2019. We brought her on to develop and lead our Customer Success efforts. She joined the team with zero DNS experience but lots of enthusiasm and care for customers. She hit the ground running by surveying the team on the current state of the customer experience, and presented her findings at DNSimple's meetup later that month.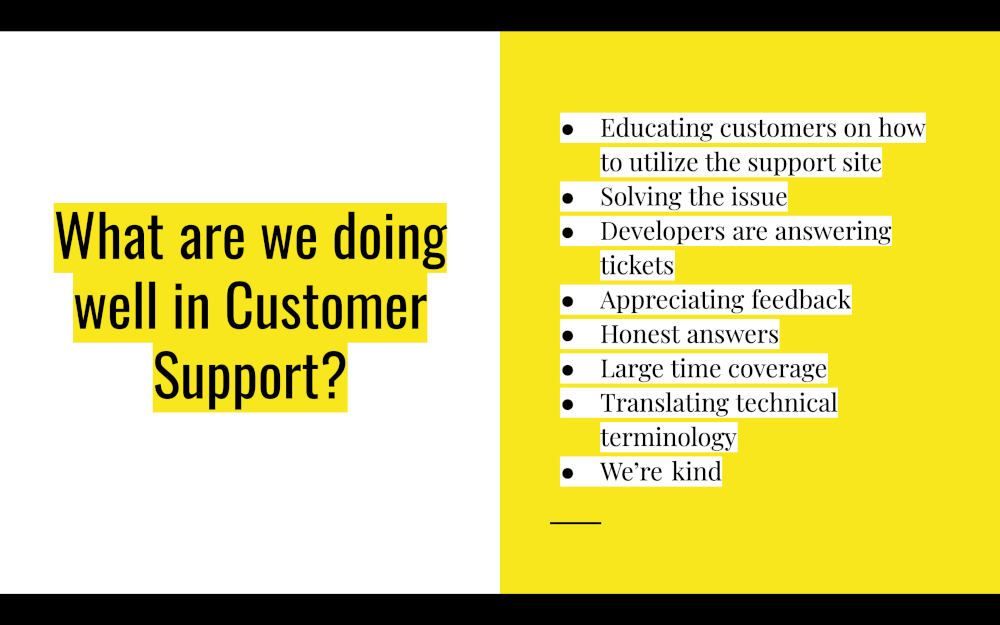 Making changes
Among the first challenges were a small backlog of tickets and some issues with writing. People often sent a block of text with no greeting, and we had no standardized company tone. The answers were always thorough, but missed that bit of personalization to make customers feel heard and appreciated. The team was eager to adapt. We now have a universal tone that's empathetic, informative, and kind. We soon saw its impact in conversations with customers – responses have been positive, and people appreciate the help.
The foundation was there, but we didn't have the documentation needed to enforce the changes and provide a resource to the team and new members as they learned the ropes. Sarah presented a formal policy defining how to work with support requests. It introduces a purpose — a set of goals for the team to align with — then details how to do support.

Along with this came the introduction of the Support Tag Matrix. This lists every team member with their areas of knowledge. We use the tag matrix when triaging (tagging unassigned tickets and then assigning from the available pool of team members) tickets to ensure every ticket is assigned to an individual who can best address the question. For example, when someone on the team has the expertise, and can answer a question about our API in five minutes, we need to ensure they're the one assigned to that ticket. Once a ticket is assigned, that individual owns it until it's resolved. This process reduces the bystander-effect and ensures timely, knowledgeable responses.

Sarah also instituted a weekly call to check in with team members and how they're doing with the new support process. Individual and group coaching has helped the team better tackle both the tough tickets and the tickets that seem never-ending. It's eased some of the stress, and the team appreciates knowing they have a buffer if it ever gets to be too much.
We immediately saw the value of the improved system, so we hired a Customer Success Technician. That role was crucial for updating all the technical and non-technical support documentation. They handled things on the more technical side, and contributed to our app for customer pain points and support goals. After that came my role as Customer Success Representative to take over some of these responsibilities and continue improving our support process and experience.
Where we are now
As the newest member of the team, I wanted to get a sense of how the team feels about the successes and challenges in support. I conducted a survey, and the results were enlightening.
The team identified a number of positives:
Our internal and customer-facing documentation is very thorough. It's easy to find answers to common issues, and it's great to be able to point customers to documented solutions.
All team members contribute to support, which helps ensure the work is shared and that no one gets overwhelmed.
It's insightful to see customer pain points (like registering premium domain names, which has recently been enabled for all customers).
There are, however, several recurring challenges:
Our assignment model (based on specialty and expertise) limits the team's view into other issues.
There's little visibility into the team's workload when assigning tickets—this makes it difficult to know whether a person has immediate bandwidth and will be able to respond quickly.
Sometimes the day gets away — other projects and demands need attention. It's difficult to schedule time to give support tickets the attention they deserve.
People also mentioned the challenge of bouncing back after a difficult interaction or getting feedback on a ticket about something they could've done differently. These frustrations can understandably arise because someone who's been in support for a long time, or who's made a career of it, may view feedback or interactions much differently than someone who hasn't. In this respect, Sarah works very closely with the team to coach and deliver feedback in regular "support check-ins" to help relieve some of the pressure.
In January 2021, Sarah introduced "The Breakdown", a monthly customer success newsletter. It gives the team insight into our ticket volume over a given period, the most common things customers contact us about, and tips and tricks for delivering great support. It keeps the team engaged and aware of customer pain points, because with so many different areas of expertise, not everyone sees the same tickets. Getting an overview of those pain points helps us identify ways to resolve those issues now, and for the future. It also shares accolades received from customers in response to great support.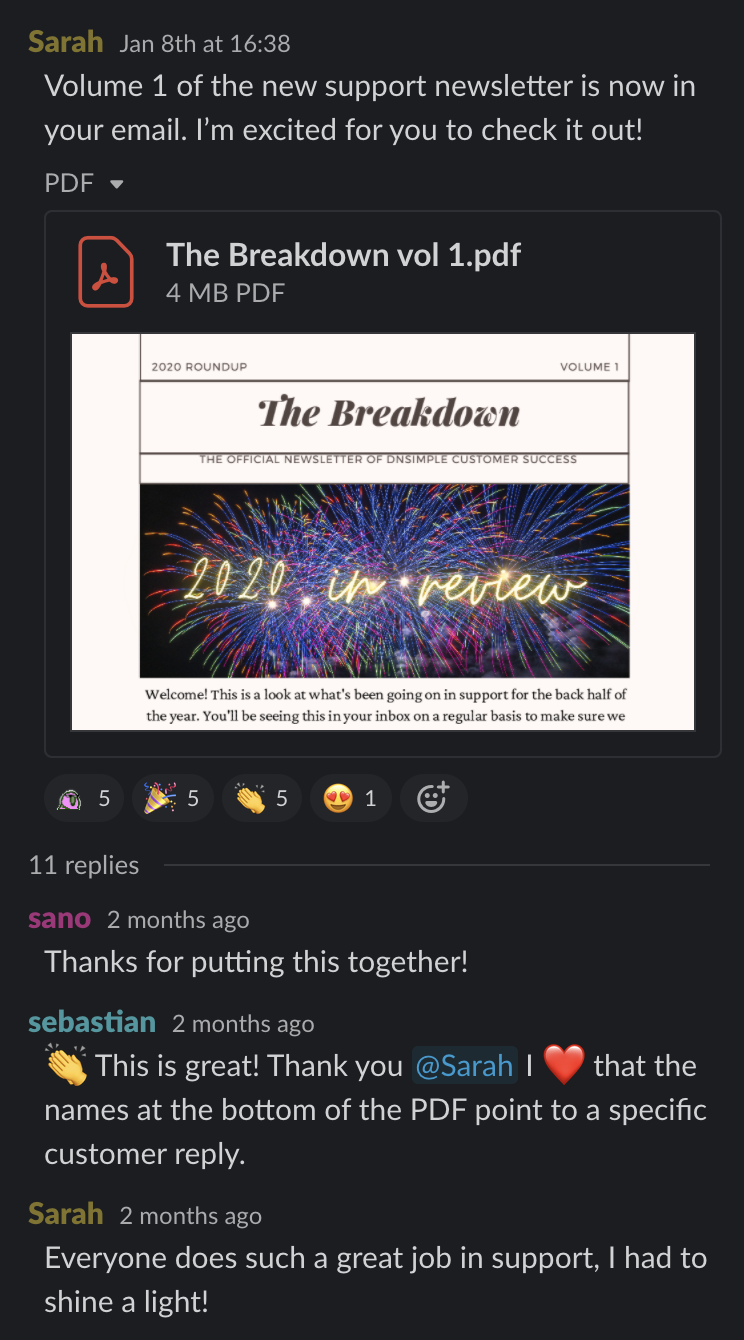 From improvements in more consistent tone to ensuring customers get speedy replies and no ticket goes unanswered, we've made tremendous strides since the days before a streamlined customer success function. We are so fortunate to have a team of developers who convey thorough, knowledgeable answers with a personal touch.
Looking forward
DNSimple is in the unique position of having a small team of super-knowledgeable people. All-hands support works because everyone cares about our customers, and has the communication skills, empathy, sense of humor, and patience necessary to deliver world-class support. Since we're a fully distributed team, we have nearly 24-hour coverage. And thanks to our detailed support and API documentation, our ticket volume is manageable – we see 33 tickets on a typical day, and each team member averages 32 tickets/month.
As DNSimple evolves, the conversation of who interacts with our customers and how we do it will evolve. In the meantime, we'll continue to educate, coach, and develop our team to best tackle all the curveballs that come with customer support.
Whatever the future holds, we're committed to providing intelligent, kind customer support. If you have any thoughts on how we can do better, please get in touch - we'd love to hear from you.
DeAndre Harris
Cat dad, music aficionado, contemporary art nerd. Passionate for building customer relationships that are informative, enriching & memorable.
We think domain management should be easy.
That's why we continue building DNSimple.
Try us free for 30 days

4.3 out of 5 stars.
Based on Trustpilot.com and G2.com reviews.