Learning
How to Avoid DNS Downtime
Dallas Read
on
When your domain is down, your business is down. Taking precautions before something goes wrong is critical to keeping your domain accessible at all times.
DNSimple offers multiple solutions across all our plans to ensure your domain stays up and running. But whether you use us for your DNS management or not, the measures outlined in this post will help you increase performance, mitigate risks, and reduce your DNS downtime.
Secondary DNS
Deploying a secondary DNS provider that doesn't share the same infrastructure as your primary provider means if your primary DNS provider temporarily goes down for any reason, your customers continue to have access to your site. It's the most important thing you can do to ensure domain uptime.
Name servers from multiple providers can communicate to each other through the AXFR protocol, commonly referred to as Secondary DNS. If the name servers from one of your providers fail, your secondary name servers can step in and carry the load.
DNSimple offers Secondary DNS to help improve your DNS zone redundancy and resiliency – compatible with any third-party DNS service.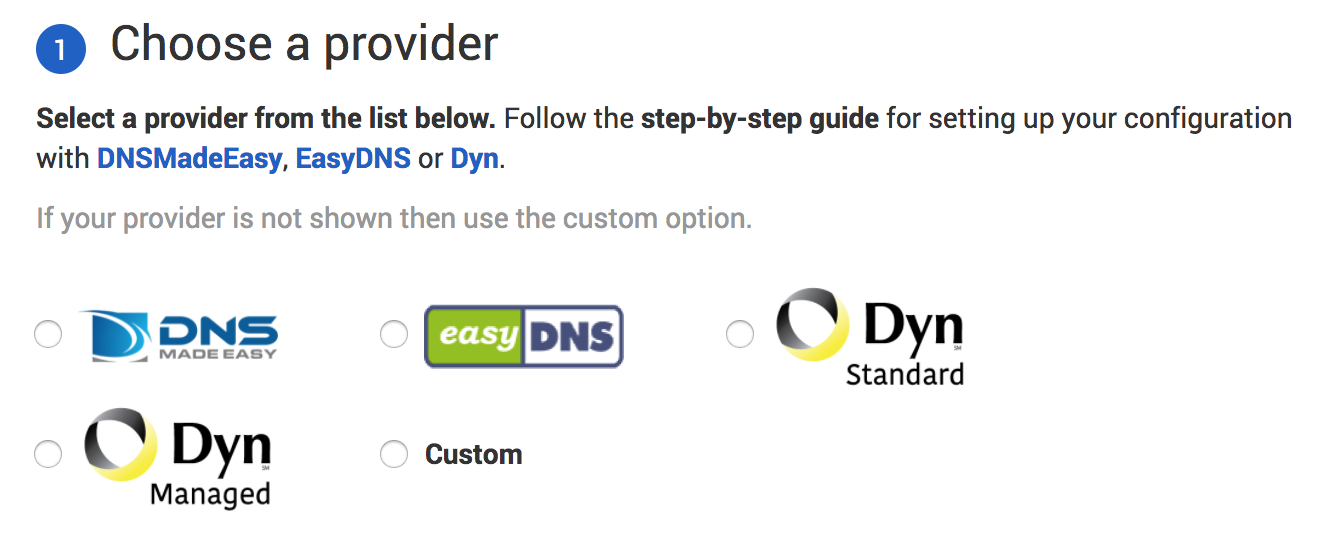 You can configure DNSimple as your Primary or Secondary DNS provider, and set up DNSimple alongside other providers like Godaddy, Gandi, or Route53. Not using DNSimple yet? Sign up free for 30 days to try out Secondary DNS along with many other features that make your domain management simple and secure.
Name Servers
Name servers are responsible for handling every request for your domain. If one of your name servers goes offline, the remaining servers will pick up the slack.
At DNSimple, we recommend using four name servers – included on every plan.

IPv6 Support
IPv6 Internet Protocol Version 6 is the latest version of the Internet Protocol (IP).
For various reasons, many newer clients prefer IPv6 over IPv4, so it's important to make sure your name servers and hosting provider support IPv6. All DNSimple name servers have IPv6 addresses and respond to queries over IPv6. If your name servers don't support IPv6, you could be missing out on some traffic.
Host names are mapped to IPv6 addresses via AAAA records, so it's a good idea to set corresponding AAAA records for each of your A records. Check out our support repository for our guide to managing your AAAA records.
SOA Records
SOA (Start of Authority) records store important information about domains. For your domain to conform to IETF (Internet Engineering Task Force) standards, it must have an SOA record at the cutover point where the domain is delegated from its parent domain.
If you use DNSimple, we automatically add the SOA record for you.
DDoS
As Distributed Denial-of-Service (DDoS) attacks become more prevalent, it's critical that your DNS provider is prepared for the worst.
DDoS attacks target websites and online services and overwhelm them with traffic in an attempt to render them inoperable. If your provider is unprepared, your site - your business - could be down for an extended period of time.
DNSimple makes sure your site stays up and running with our robust DDoS defense, Anycast network, and multiple points of presence around the globe. If you host your Primary DNS on your own name servers, you can take advantage of our multi-layered DDoS defense with DNSimple as a Secondary DNS provider.
Because keeping your domains secure is our top priority, DNSimple offers DDOS protection automatically for all our customers at no extra cost.
Learn more
We've created a handy checklist with this info for you to use and share. Just enter your domain name, and we'll do the rest.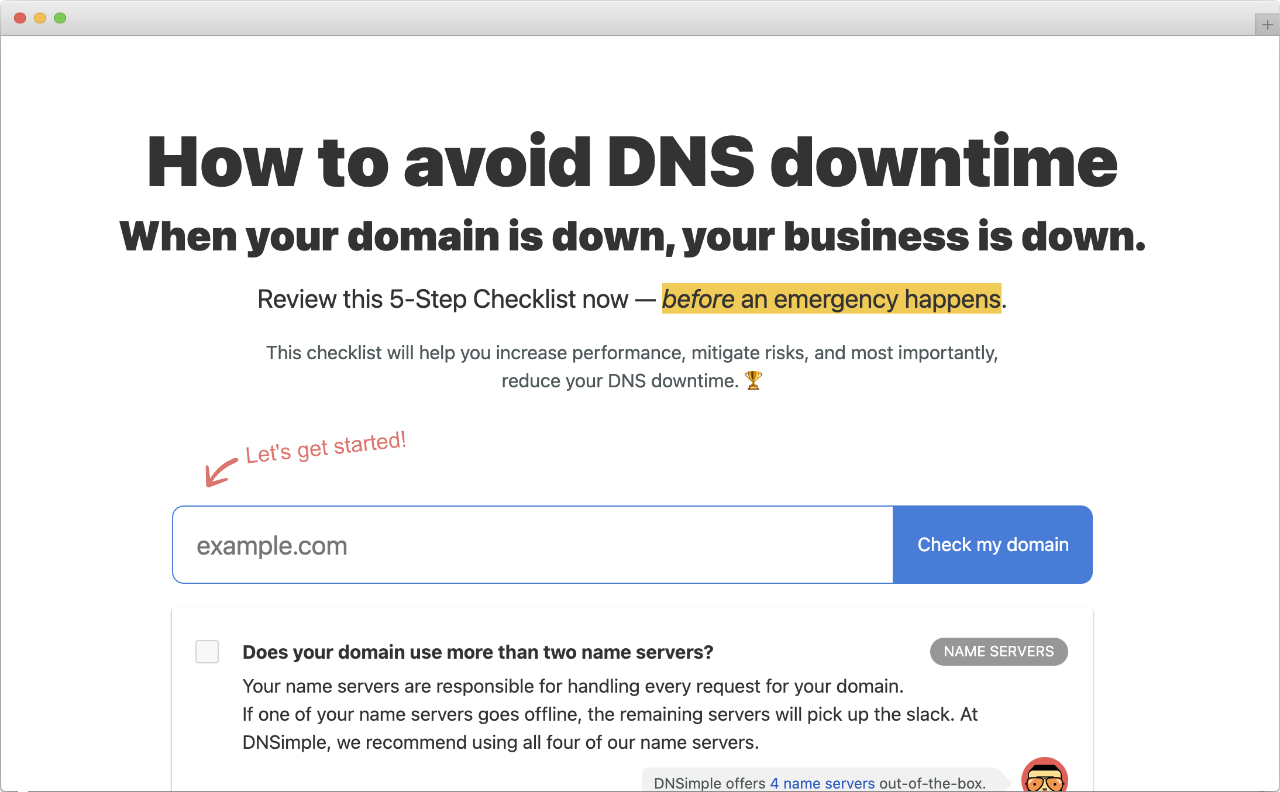 If you have questions about how to maintain DNS uptime, or you'd like a personalized DNS-uptime review of your domain, drop us a line. We're always happy to help.
Not using DNSimple yet? Explore our effortless DNS management and robust domain and DNS security for yourself - give us a try free for 30 days.
Dallas Read
Dream. Risk. Win. Repeat.
We think domain management should be easy.
That's why we continue building DNSimple.
Try us free for 30 days

4.3 out of 5 stars.
Based on Trustpilot.com and G2.com reviews.