Features
Protect Your DNSimple Account with Two-Factor Authentication from Authy
Anthony Eden
on
Keeping your DNSimple account secure is important - DNS is a core part of any application or web site on the Internet. Today we've launched two-factor authentication support in DNSimple to give you an extra level of protection against unwanted access to your account.
How Does it Work?
Two factor authentication adds an additional authentication step requiring a generated token that is required after you enter your username and password. We're using the Authy.com service to provide two-factor authentication in DNSimple.
To enable two-factor authentication:
Step 1
Go to your DNSimple account page and follow the link to enable two-factor authentication.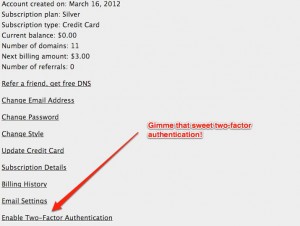 Step 2
Enter your mobile phone number and select your country. You will receive a message via SMS with instructions on how to install and/or authorize the Authy application. Authy provides applications for a variety of smart phones like your iPhone, Android or Blackberry.

Step 3
The next time you log in you will be prompted for your Authy token after you have logged in with your username and password. You can either use one of their smart phone applications to retrieve your token or simply request a new token via SMS.

That's it!
You may disable two-factor authentication any time by going back to your account page and using the link to disable it.
If you need any assistance please contact us!
Anthony Eden
I break things so Simone continues to have plenty to do. I occasionally have useful ideas, like building a domain and DNS provider that doesn't suck.
We think domain management should be easy.
That's why we continue building DNSimple.
Try us free for 30 days

4.3 out of 5 stars.
Based on Trustpilot.com and G2.com reviews.