Updates
Welcome Javier Acero
Anthony Eden
on
It is my pleasure to finally welcome Javier Acero to the DNSimple team.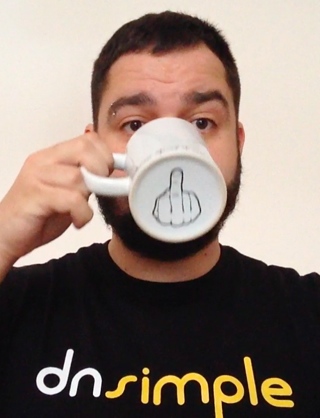 Javier is the newest software developer to join the DNSimple team. He joins us in Europe and will be helping me break things so Simone doesn't get bored.
If you sent an email to support in the last few weeks there is a huge chance you already met Javier since he has been knocking out customer support requests like a champion.
Javier is a software developer obsessed with testing, architecture and code quality. He has spoken in conferences and user groups in Spain and we will be pushing him to start doing that on other countries. When he is not learning a new language or reading to the sound of jazz music, he will be probably brewing coffee or playing with his gorgeous cat.
You can find him on Github, Twitter and on his long forgotten personal web page.
Welcome Javier!
Anthony Eden
I break things so Simone continues to have plenty to do. I occasionally have useful ideas, like building a domain and DNS provider that doesn't suck.
We think domain management should be easy.
That's why we continue building DNSimple.
Try us free for 30 days

4.3 out of 5 stars.
Based on Trustpilot.com and G2.com reviews.