Features
Multiple Accounts, Teams, New Plans and New Features
Anthony Eden
on
More than a year ago we started work on our most ambitious DNSimple upgrade to date. Today we are launching this upgrade. It includes numerous new features, including multiple accounts, teams, regional records, and more. We're also launching new plans that provide more value to you and that let you grow and manage your domains more effectively.
Most importantly rest assured that you do not need to change your plan today. As an existing customer, you are welcome to stick with your current plan and price for 1 year. However, you may save money by switching today, so read on to find out more.
New Feature: Multiple Accounts
Starting today, every DNSimple customer may have multiple accounts that can be managed independently from a single user profile. For example, this gives you the ability to set up one account for personal use and one for business use. You could also have one account for each of your customers if you are managing domains and DNS on behalf of others.
So how does it work? When you visit your profile settings page, where you manage your email address, password, two-factor auth, and other user profile features, you will see a new accounts card. There you will be able to see all accounts you have access to and from there you may add new accounts.

Each account has a name, a unique URL path and an account-specific email address.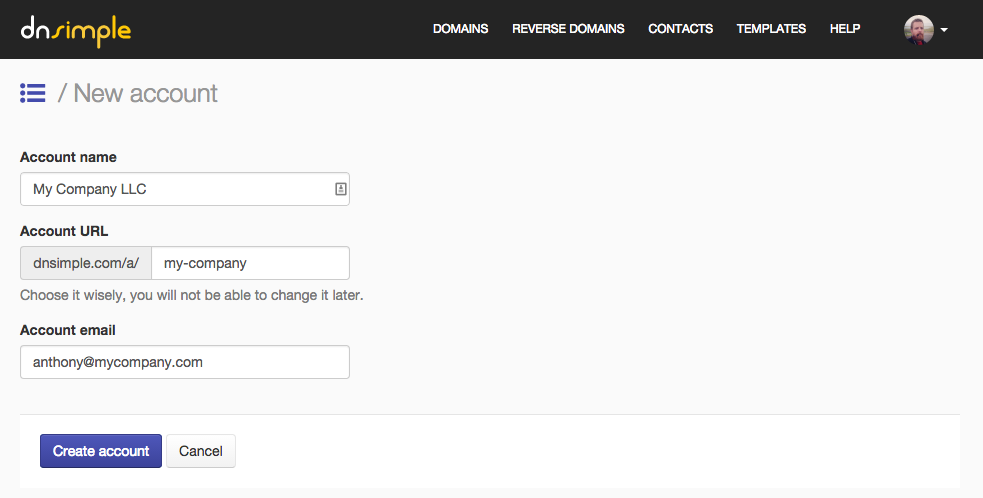 From the account management page you can see information about the account, such as how many domains, contacts, templates and referrals the account has. You can also change the account details, select a plan for the account and manage the account billing. Each account has its own billing settings, so you can separate your work and personal accounts with different credit cards.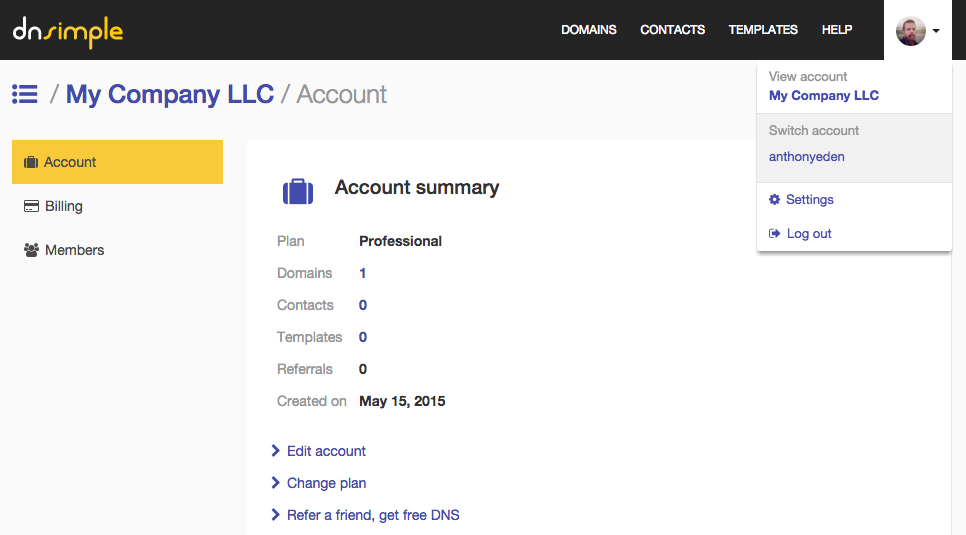 Switching between accounts is easy: just use the drop down at the right of the main menu bar. From there you can switch between all of your accounts as well as access your account settings page.
When you switch accounts you will only see the domains associated with that account. Adding a new domain will add it to the account you are currently accessing.


New Plans
With the release of the new multi-account feature, we are also changing our service plans and introducing other features as well. Starting today, all new customers will select from one of three plans: Personal, Professional and Business.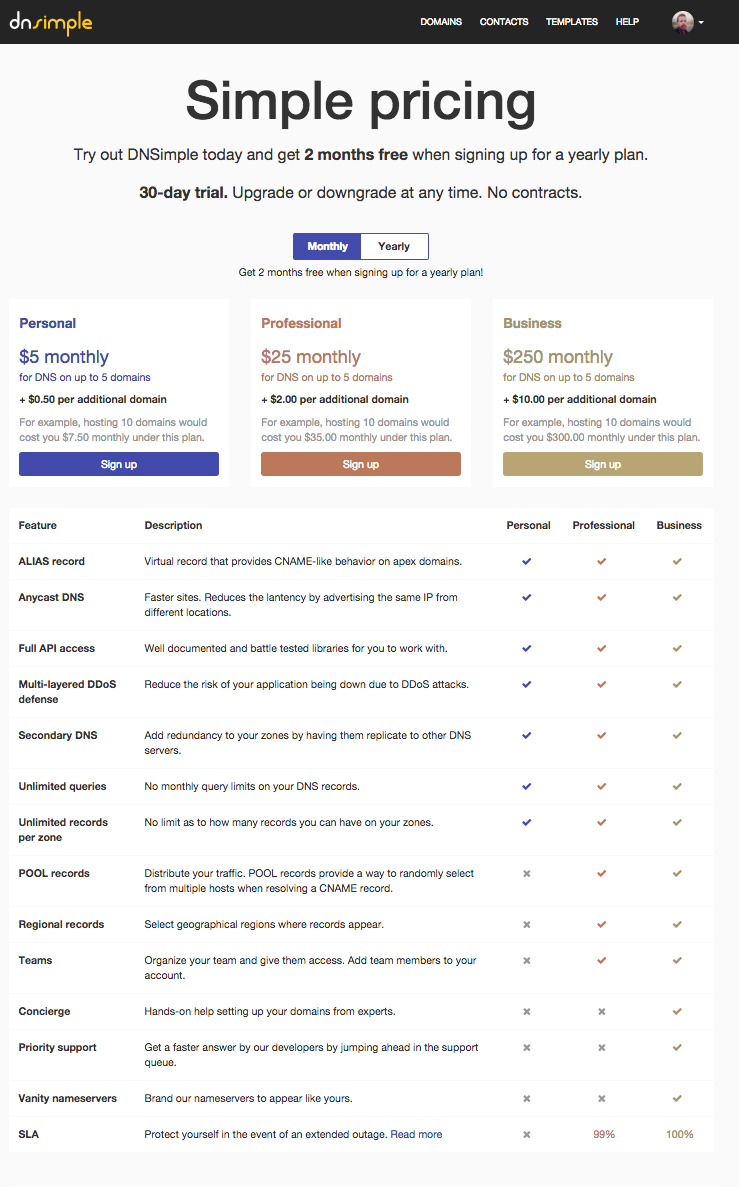 All plans come with nearly all the features you know from our previous plans, including our ALIAS record, Anycast DNS, full API access, multi-layered DDoS defense, secondary DNS support, unlimited queries and unlimited records per zone.
Every plan comes with 5 domains as part of the base plan price. Beyond the initial 5 domains you will be charged per domain, per month.
Why Are we Changing our Plans?
Have you ever emailed us and received a fast, smart response that has helped you solve a pesky DNS issue, or made sure that your SSL certificate is properly configured? Maybe you set up our ALIAS record to point at a Heroku site with one click, or you've read the tweets from our team as we respond to DDoS attacks. These might not show up on our feature list, but it's the real reason we're here.
We want to keep pushing the limits of how flexible, powerful, and simple DNS and domain management can be. We want to keep offering fast answers from people you trust. We want to continue expanding our network to deliver the highest availability, lowest latency query responses we're capable of.
After 5 years in business, we have a much better idea of what you expect, why you expect it, and how much more we can do to meet those needs. Our previous plans were a shot in the dark at these things, and we can do better. These new plans do a better job at mapping the value you receive to your needs, and they will help us know where to focus our energy as we head into the next 5 years of business.
What about Existing Customers?
If you have an active account then you do not need to change plans today. Ultimately we would like to sunset all of our old plans, but you have 1 year where you may remain on your existing plan.
The majority of existing customers will save money with the new Personal plan. For example, if you currently have 4 domains on a Silver plan, then you could switch to the Personal plan and save $3 per month.
Silver: $8 per month for 4 domains
Personal: $5 per month for 4 domains
If you are on a Silver plan and have 8 domains, you'd still save money by switching to the new Personal plan:
Silver: $8 per month for 8 domains
Personal: $5 per month for 5 domains, plus $0.50 per domain for 3 domains, totalling $6.50 per month for 8 domains.
New Feature: Teams
The Professional and Business plans come with a long-awaited new feature: teams. With this new feature you can now add other DNSimple users to manage all aspects of an account, including domain registration, SSL purchases, billing and general account management.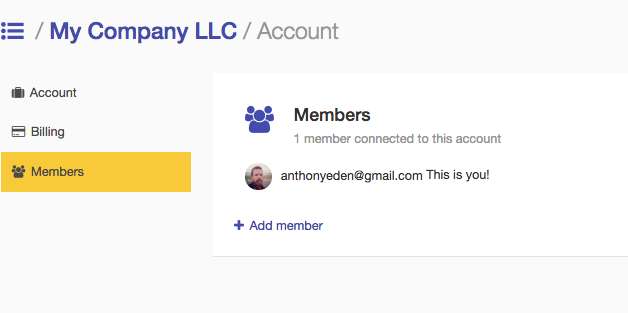 Team members simply need to sign up for DNSimple and then you may add them to your accounts using their email address.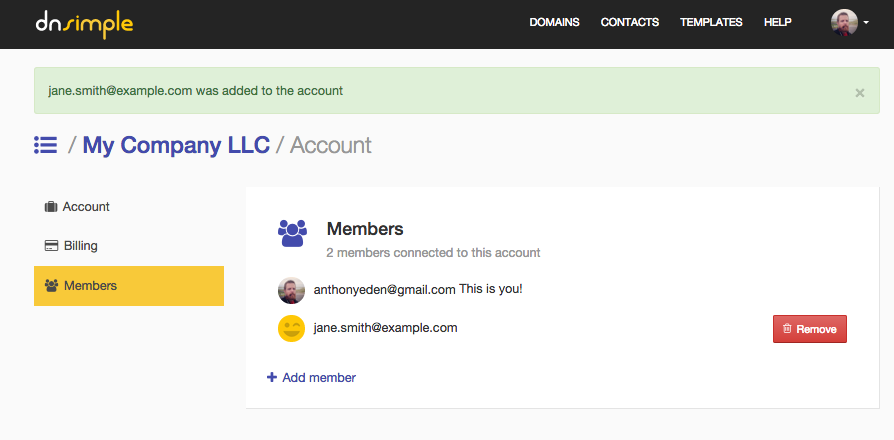 Individual team members do not have to pay any monthly fee, although they may have their own accounts with different plans if they would like.
New Feature: Regional Records
Professional and Business plans both include regional record support. This new feature allows you to select which regions will serve your DNS records. For example, you could add one record and select only locations in the US, and then add another record and select our European location, and finally a third record delivered from our Tokyo data center.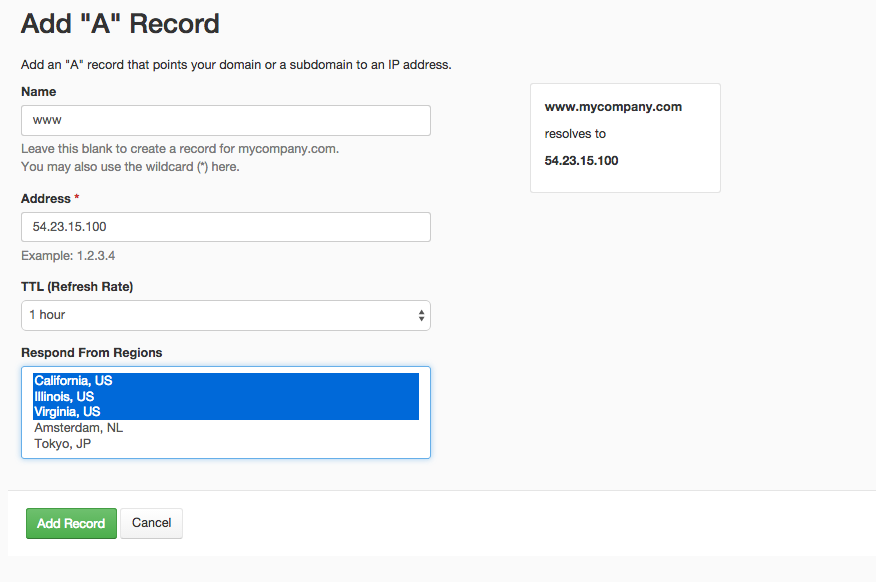 New Feature: Priority Support
We are continuing to offer our white-glove customer support to all customers, but we are introducing a new Priority Support feature for businesses that need help quickly. Each Business subscription comes with a special email address which will take you to the head of the support queue. You'll get the answers you need quickly so you can get on with your work.
Other Changes: Service Level Agreements, POOL Records, and Vanity Name Servers
With the new pricing we are changing our SLA policies. Businesses will continue to have 100% SLA and Professional customers will have a 99% SLA. Personal plans will no longer have an SLA.
POOL records will no longer be available to personal plans, but will remain available to both the Professional and Business tiers.
Business plans will now automatically include the option to use vanity name servers.
Conclusion
This is a big release with contributions from everyone on the team. Javier and Sebastian have put in a huge amount of effort getting the user interface functioning seamlessly. Joseph has been busy making sure all of the copy makes sense. Jacobo and Aaron have been continuing to improve our overall infrastructure all-the-while, and of course none of this would have been possible without Simone, who worked especially hard on switching from our single-account/single-user system to multi-account/multi-user.
We hope you enjoy the new features. Naturally we are continuing to work hard and we look forward to making DNSimple even better for you. As always, if you have any questions or comments feel free to get in touch with us.
Anthony Eden
I break things so Simone continues to have plenty to do. I occasionally have useful ideas, like building a domain and DNS provider that doesn't suck.
We think domain management should be easy.
That's why we continue building DNSimple.
Try us free for 30 days

4.3 out of 5 stars.
Based on Trustpilot.com and G2.com reviews.