Features
A new dashboard
Sebastian Hermida
on
Since the very beginning, the domain list page has been the entry point when logging into DNSimple. Starting today you will now see a new dashboard after logging in, making it much easier to see an overview of all of your domains across multiple accounts.
The new dashboard
With multiple accounts, you can organize your domains on different plan tiers if you need to. For example, you might want to keep your own domains on the "personal" plan, while taking advantage of the "professional" team feature for the domains that you manage with your team members or customers.
The problem is that the current domain list displays only the domains associated with single accounts at a time. By default this was the main account associated with your user, so you would have to jump to the other accounts to find a domain managed elsewhere.
Today, we are happy to announce that you can now access any of your domains from your dashboard.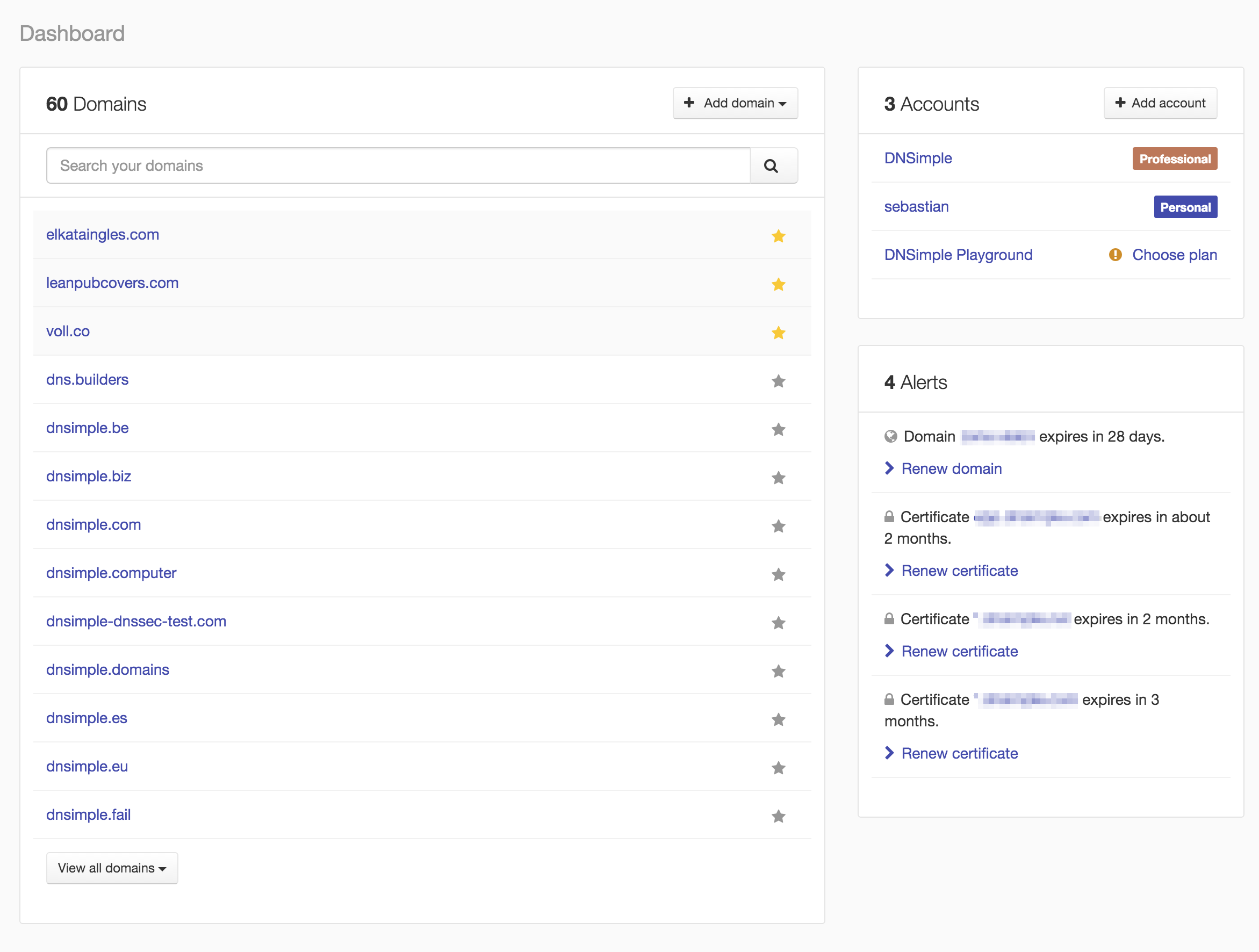 This new page contains 3 main sections: domains, accounts and alerts.
Domains
This section lists your favorite domains first. Favoriting a domain is also a new feature that we introduce today. You can favorite any domain across your accounts to have them show up at the top of this list. Toggle a favorite from the dashboard or from the domain details page.
From the domains section, you can quickly add a domain. If you have multiple accounts, we'll ask you under what account you want to add it.

Accounts
Pretty straightforward. Create and Manage your accounts from this area.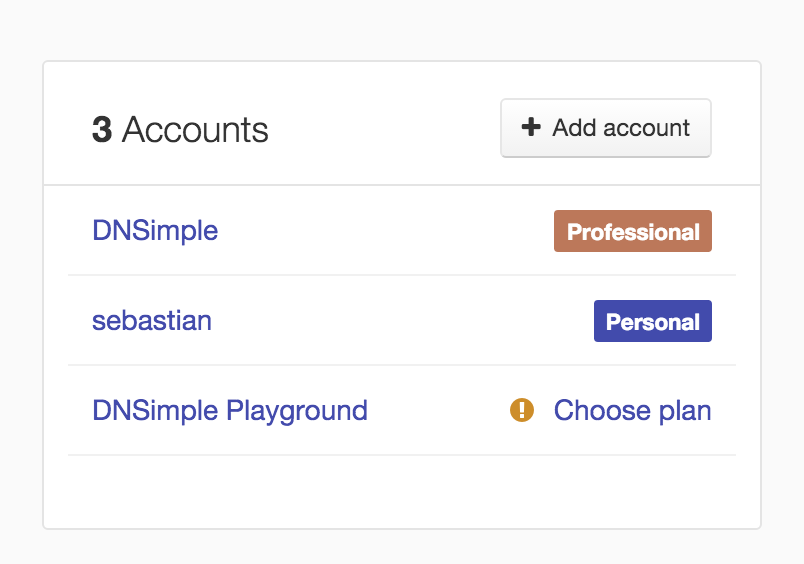 Alerts
The alert section displays domains and SSL certificates that are due to renew. With one click, you can quickly jump to what needs to be renewed.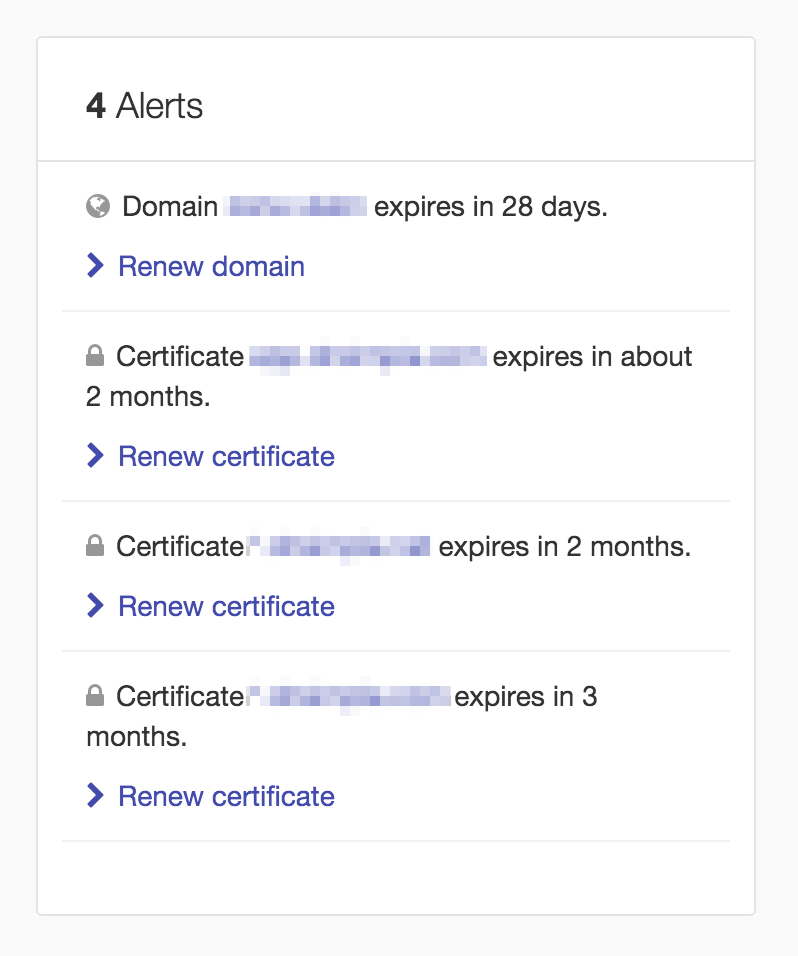 Access any domain quickly
We also have introduced a new search and filter inputs into the top navigation, so you can jump to any domain at any time, from any page.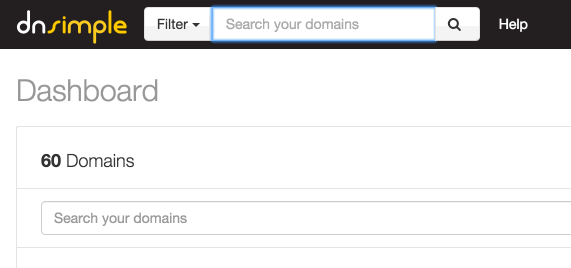 We have bundled the domain and label filters under the same input group to give you immediate access to your collections of domains.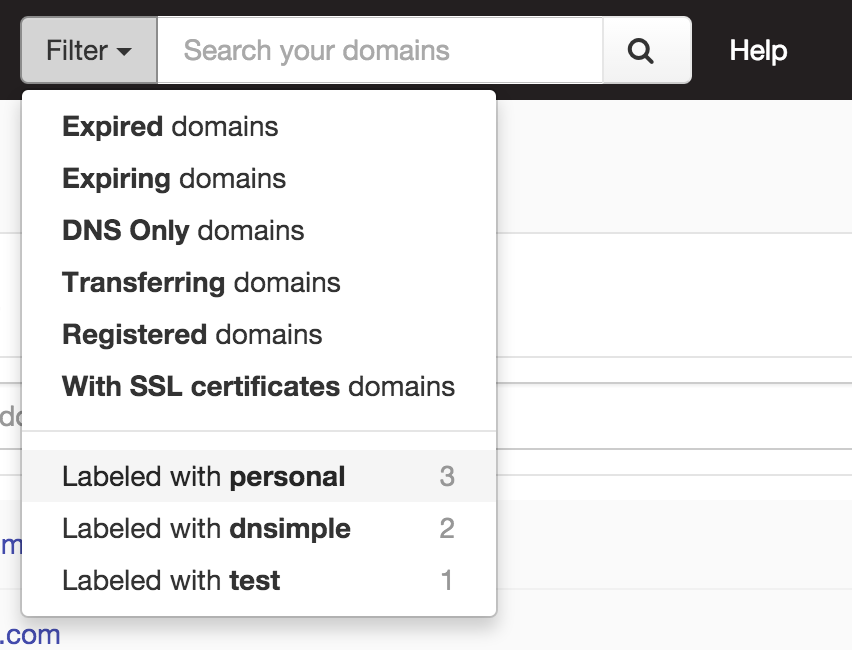 We hope you enjoy these new improvements; we had fun building them. If you have any questions, concerns or ideas, feel free to contact us at support@dnsimple.com.
Sebastian Hermida
Appreciates the finest things in life: clean code, good illustrations and carrot juice. Someday he will run a marathon.
We think domain management should be easy.
That's why we continue building DNSimple.
Try us free for 30 days

4.3 out of 5 stars.
Based on Trustpilot.com and G2.com reviews.