Features
Easier domain contact verification
Sebastian Hermida
on
Contact verification is part of a policy established by ICANN (Internet Corporation for Assigned Names and Numbers) called the 2013 Registrar Accreditation Agreement (RAA). Before you close this browser tab because I have already introduced two acronyms in the first sentence, read on to see how we are working hard to make this process easier for you.
The problem
The 2013 Registrar Accreditation Agreement (RAA) requires registrars to validate certain contact information for all new domain registrations and contact updates. We've written about this policy in the past.
The contact verification is done through email. Unfortunately, the email is white-labeled, sent under our name, and even looks like spam. We apologize, we have no control over the content of the email.
Here is an example:
When is contact verification necessary?
You will need to verify your contact information in the following scenarios:
You register a new domain with an unverified registrant.
You update an existing domain's contact with an unverified contact.
You update a contact that is associated with multiple domains.
The verification is necessary only if ICANN considers the TLD of your domains to be worthy of verification.
What happens if you don't verify your contact information
Once your email has been updated and submitted to the registrar, there is a 15 day window to verify your contact information. If you fail to confirm this information, the domain is suspended.
The solution
This is where our new feature comes in. We now warn you before the domain is suspended. You'll see different indicators through our application depending on whether your domain is pending suspension or has already entered suspension.
You will get new alerts on the dashboard.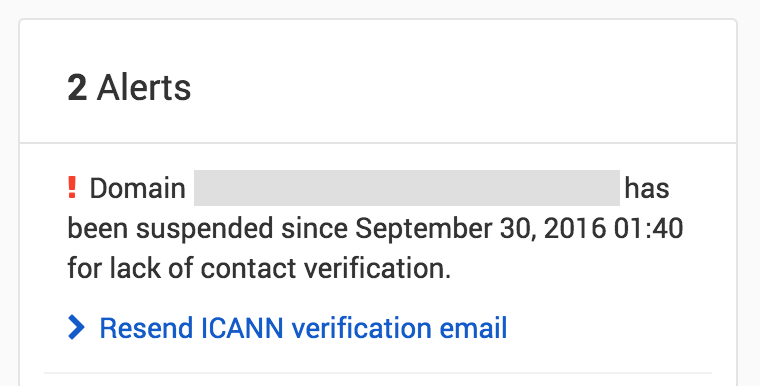 We warn on your domain lists and domain details. And if you didn't get the verification email, or you lost it, you'll be able to resend it through our UI.

Finally, every time you update a contact associated with a domain, we'll remind you to check your inbox for the contact verification email.
If you have any further question about RAA verification, feel free to email us!
Sebastian Hermida
Appreciates the finest things in life: clean code, good illustrations and carrot juice. Someday he will run a marathon.
We think domain management should be easy.
That's why we continue building DNSimple.
Try us free for 30 days

4.3 out of 5 stars.
Based on Trustpilot.com and G2.com reviews.