Features
Announcing 'Services' and other UI Enhancements
Anthony Eden
on
We're very happy to announce the roll out of an improved DNSimple web interface today to all DNSimple customers. Staying true to our name, the updates to the web interface are all about making DNS simple. Here is a rundown of what has changed and how it will make your experience with DNSimple even better.
The first change you'll see when logging into your DNSimple account is the overhaul of the DNSimple domain list page. We've cleaned up the page and reduced the number of options accessible from here to make it easier to see what you can do with your domain. Each domain in the list includes a little status indicator that clearly marks whether or not DNSimple is resolving queries for a particular domain. You can also see the number of records in the domain's record collection. To the right of each domain are a set of buttons that change depending on the status of the domain. The first button is the Manage button which takes you to a page for seeing all of the details for a particular domain. More on the Manage screen in just a bit.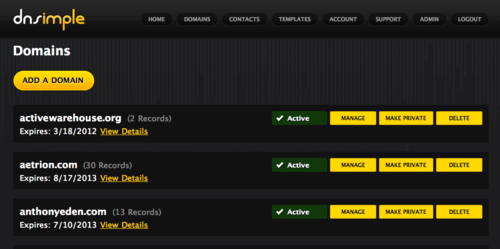 The second button changes depending on whether or not the domain is registered with DNSimple as its registrar. If the domain is only hosted then the button will be a "Transfer" button which can be used to initiate a domain transfer. If the domain is currently being transferred then the button will say "Transferred" and will take you the domain's list of transfer orders. If you are registered but the domain does not have Whois Privacy Protection then it will say "Make Private", enabling you to quickly add Whois Privacy Protection. If the domain is private then the button will say "Make Public" allowing you to temporarily disable privacy protection.
The third and final button is the "Delete" button, useful if you no longer want to manage the domain through DNSimple.
For domains that are registered with DNSimple you'll also see the domain's expiration date on the domain list screen.
The next major change is on the Manage screen. When you click "Manage" next to any domain you will go to a page that shows all of the details about the domain, including the services you've enabled for the domain, the current status of the domain along with helpful information about to activate inactive domains, as well as info about your overall account status. The concept of Services are something completely new with this revision of DNSimple, and something we really think you'll like.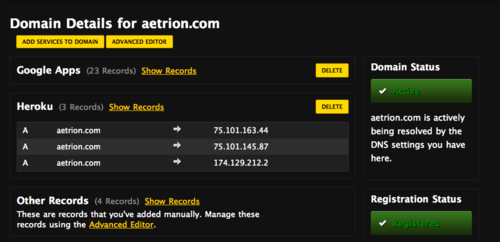 A Service is essentially a collection of DNS records that you can apply to a domain with a single click. Services are a lot like templates, with a few differences: when you add a service the records are not editable in the Advanced Editor. Also, if the service ever makes changes to their records then we can update the service once and update everyone's DNS records, meaning you won't have to. We've already added some commonly used services like Google Apps, Heroku and WordPress. To add a service to a domain just click on "Add Services to Domain" and click "Add" next to each of the services that you want enabled for the domain and click "Done, View Domain" when you're finished.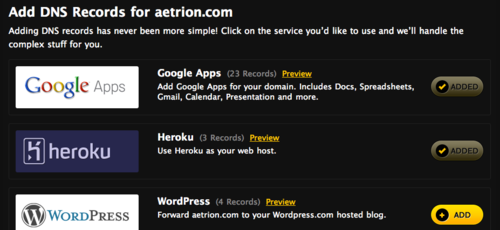 If you need to do more than services allow you can always use the original editor by clicking on "Advanced Editor". Records that come from services will appear grayed-out and will indicate their source. Records that you add manually will be editable and deletable in the advanced editor. Any records that you add with the advanced editor will also be visible on domain details page in a box for other records.

Given these significant changes we decided it was also time to update the home page to better focus on what we do, which is make DNS simple. We've also rolled out a new support system using TenderApp and have begun filling it up with answers to common questions: http://support.dnsimple.com
As we near the end of 2010 we'd just like to say thanks to all of our customers for your ideas and inspiration. We are looking forward to 2011 and to continuing to make DNS simple for everyone.
Anthony Eden
I break things so Simone continues to have plenty to do. I occasionally have useful ideas, like building a domain and DNS provider that doesn't suck.
We think domain management should be easy.
That's why we continue building DNSimple.
Try us free for 30 days

4.3 out of 5 stars.
Based on Trustpilot.com and G2.com reviews.