Features
Advanced Editor v2 and New APIs
Anthony Eden
on
Update 2023-05-25 - WHOIS Privacy is now free across all plans. We edited this post to reflect that change.
I'm happy to announce that the DNSimple Advanced Editor has gotten a refresh.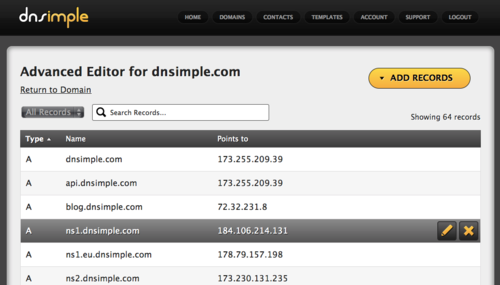 The new version makes it easier to manage your domains by providing both a record-type filter as well as a search tool for filtering your domain list.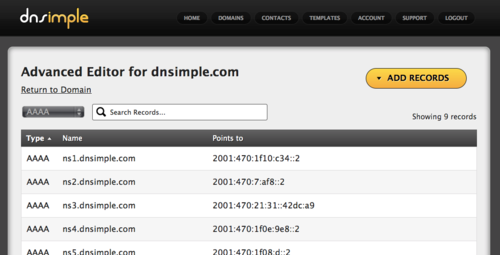 Additionally the UI has been cleaned up a bit in the process. If you need to switch back to the previous version of the editor you can do so by clicking the link "switch to version 1" link at the bottom of your record list. If you decide to switch back due to any issues with the editor please send an email to support@dnsimple.com and let us know why it isn't working for you so we can improve it. Eventually we'd like to remove version 1 but first we want to make sure it works as you expect it to.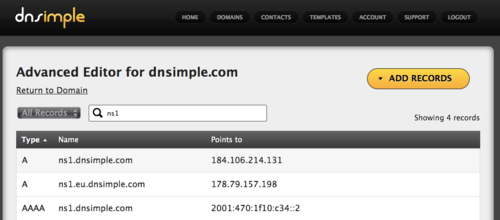 In addition to the new editor we've also released some new APIs. The API now has functionality to change DNS servers to another provider other than DNSimple for domains that you register with us. You may also enable and disable WHOIS Privacy Protection through the API as well.
As always please contact support if you have any questions and thank you for being a DNSimple customer.
Anthony Eden
I break things so Simone continues to have plenty to do. I occasionally have useful ideas, like building a domain and DNS provider that doesn't suck.
We think domain management should be easy.
That's why we continue building DNSimple.
Try us free for 30 days

4.3 out of 5 stars.
Based on Trustpilot.com and G2.com reviews.