Features
Manage Your AWS Route 53 DNS from DNSimple
Dallas Read
on
DNSimple has always been committed to making your domain management as simple as possible, and we're constantly adding new features to achieve that goal. Today we're taking another step towards this vision with the official release of our AWS Route 53 integration. You can now see and manage your AWS Route 53 zones inside DNSimple, with more providers to come.
Our new integration with Route 53 lets you manage your DNSimple and Route 53 zones, all from within our simple web interface. We've designed this feature so you can easily figure out differences between zones and their records and quickly synchronize your DNS between providers.
This feature is now available to all subscribed customers. If that's not you yet, sign up to take advantage of 30 days free,and try our new Integrated DNS Providers along with DNSimple's many other features that simplify your domain management.
Let's talk more about integrated providers, how you can leverage this exciting new feature to further use DNSimple to make your DNS management easier, and what this looks like moving forward.
Manage DNS across vendors
We identified two main needs for enterprises that other DNS providers aren't addressing: the need to see and manage DNS across cloud DNS vendors, and operating authoritative DNS inside and outside corporate firewalls. We chose integrating with AWS Route 53 as the first step towards addressing these needs, because it lets you manage zones that are in DNSimple, Route 53, or both, from DNSimple's web interface.
With DNSimple's Integrated DNS Providers, you'll be able to:
Import integrated zones — When you link an integrated DNS provider to your DNSimple account, all the zones hosted on that integrated DNS provider will be imported into DNSimple and listed on the Zones page.
Manage your integrated zone records — List, create, update, and delete integrated zone records from DNSimple using the Deployment Editor. (Note: The list of supported record types differs based on the provider)
Use 2-way syncing — Sync your integrated zone records from the integrated zone to DNSimple, or from DNSimple to the integrated zone, with the Deployment Editor.
Linking AWS zones with DNSimple
If you're ready to link Amazon Route 53 as an integrated DNS provider, you'll need:
An AWS access key for an AWS user with permission to manage public hosted zones at Route 53, including:

route53:ListHostedZones
route53:ListHostedZonesByName
route53:CreateHostedZone
route53:ListResourceRecordSets
route53:ChangeResourceRecordSets
route53:GetHostedZone
route53:DeleteHostedZone

Administrator access to a DNSimple account
Follow these steps to link your Route 53 zones with DNSimple:
Go to your DNSimple Account page, and click the Integrated DNS Providers tab.
Under Add an Integrated DNS Provider, choose the provider you want to link.
Fill in the credentials for your account at the integrated DNS provider, and choose a nickname for the account.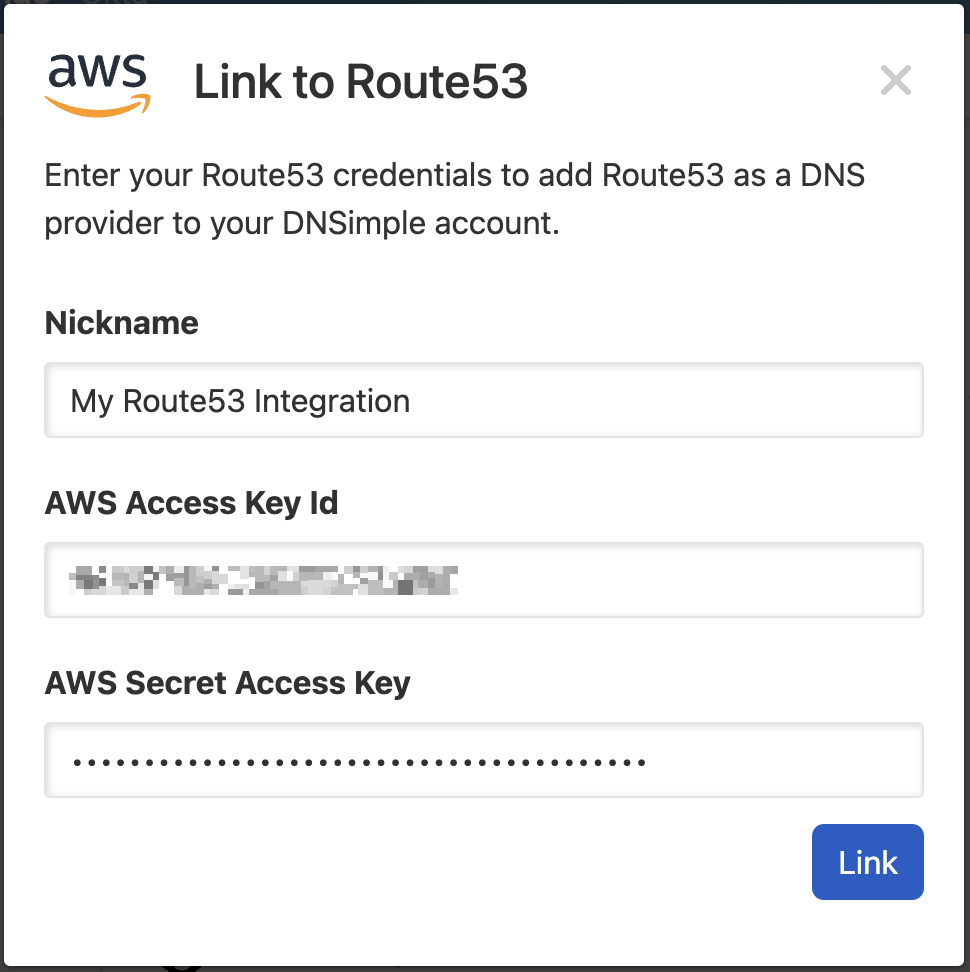 After linking the integrated DNS provider, you'll be taken back to the DNSimple Integrated DNS Providers page with the integrated DNS provider linked to your account under "Linked providers". You can view the imported integrated zones from the Zones page, and manage and sync integrated zone records from the Deployment Editor. More on that below.
We've also made it easy to unlink providers. At DNSimple, go to your Account page, choose the Integrated DNS Providers tab, and click Remove on the integrated provider you want to unlink.
The deployment editor
The deployment editor is the corollary to the record editor for managing DNS records at multiple providers.
From the deployment editor page, you can view the records for a zone at DNSimple and integrated DNS providers and sync them. The page groups records together so you can easily see which records are at which DNS provider(s). You can add a zone record to any DNS providers that support the record type and sync zone records between DNS providers. There are just a couple steps to follow:
Click Sync records on the deployment page.
In the popup, choose the DNS provider that will be the source of the zone records and the destination DNS provider.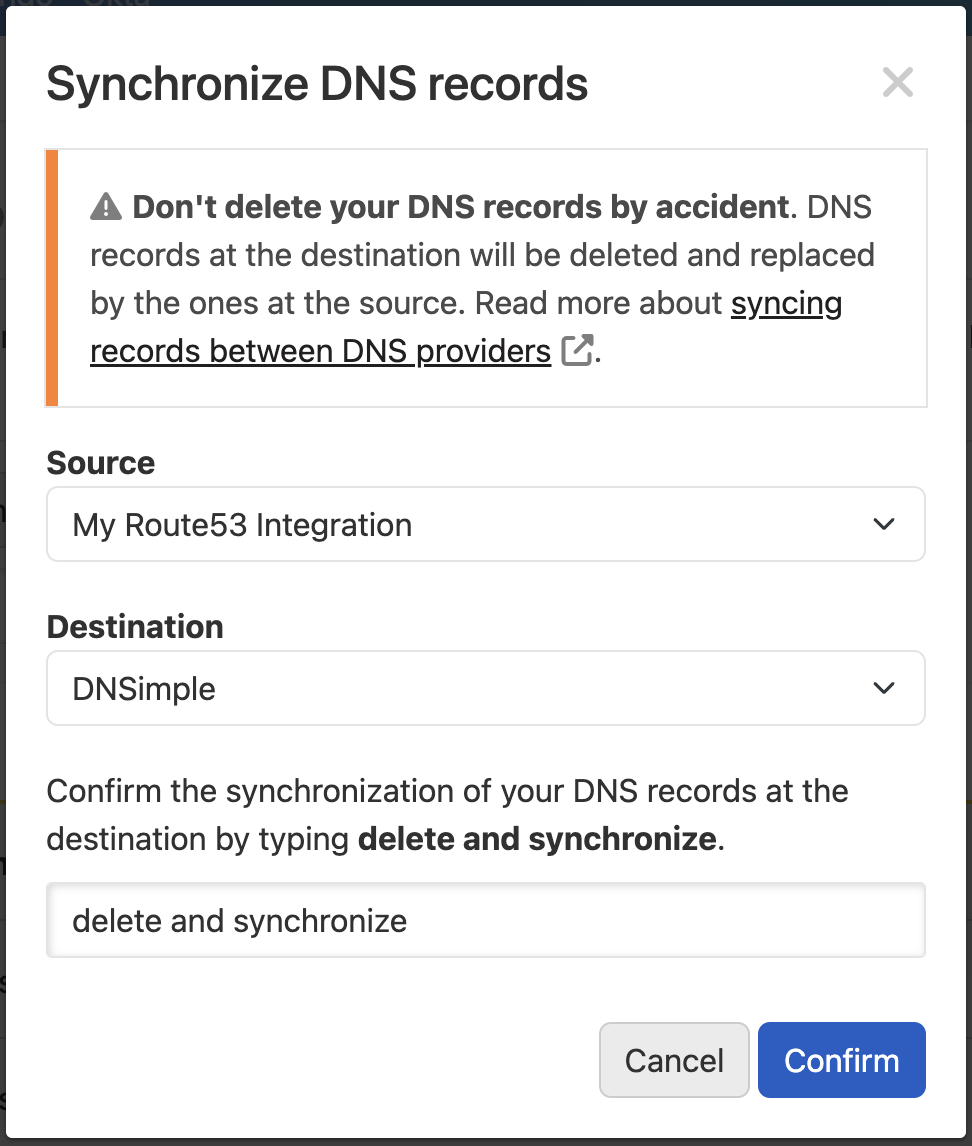 Records in the destination zone can be created, updated, and deleted to make the records in the destination zone match those in the source zone.
A larger vision
Making it easy to manage your Route 53 zones from within DNSimple is the first step towards our larger vision of a unified interface for managing your domains and DNS wherever they are. We'll be releasing additional integrations throughout the year, so keep a look out for future updates. If there's an integration you want to see that we don't already support, let us know.
Take a look at our support articles for more on managing your integrated zones and the deployment editor. If you have any questions or want to talk more about your DNS management needs, get in touch — we'd love to hear from you.
Not using DNSimple yet? Give us a try free for 30 days, and experience how simple and streamlined your domain management can be.
Dallas Read
Dream. Risk. Win. Repeat.
We think domain management should be easy.
That's why we continue building DNSimple.
Try us free for 30 days

4.3 out of 5 stars.
Based on Trustpilot.com and G2.com reviews.