Features
Manage Your GoDaddy Domains in DNSimple
Dallas Read
on
Updated Oct. 23, 2023
We previously introduced the ability to view your GoDaddy domains and their contact information, name server delegations, and renewal details through our Integrated Providers feature. Now you can do even more with our latest updates to the feature.
If you've been following along with all of DNSimple's new releases, you've probably seen us talking a lot about our new Integrated Providers feature. We recently announced two new Integrated Zone Providers — AWS Route 53 and CoreDNS. This is all part of our vision for a Domain Control Plane - a single pane of glass for managing your domains and DNS, wherever they live.
Today, we're excited to announce you can make changes to your GoDaddy domains through our Integrated Domain Providers. We support domain transfers to DNSimple, domain registration, and configuration of auto-renewal, WHOIS privacy, and name servers. Available to all customers across all plans, including our free Solo plan.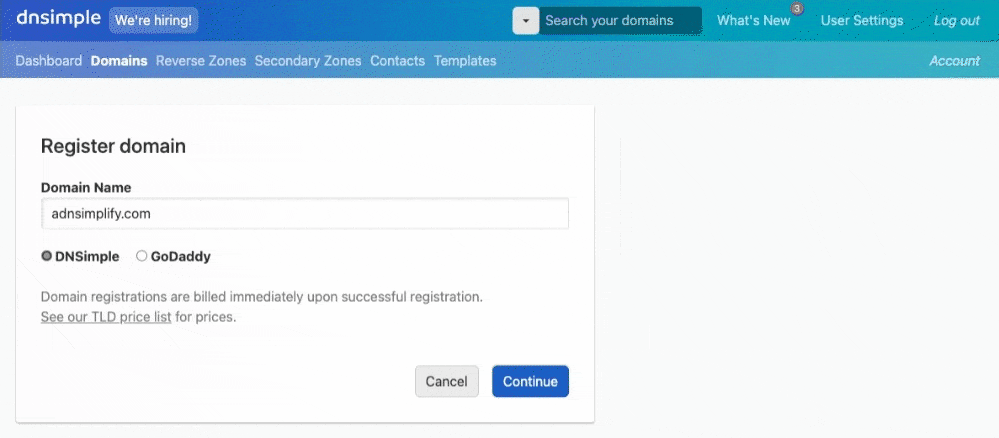 With this feature, you'll be able to see and make changes to your GoDaddy domains directly in DNSimple. It gives you visibility into all your domains and tools to help you easily move from one provider to another. We've also created a notification center to alert you of any changes to your domains since your last login.
Let's dive a little deeper into the Domain Control Plane and what our Integrated Domain Providers can do for you.
A better option
Many of our customers manage domain registrations across multiple registrars, using complicated spreadsheets and documents. Some don't bother tracking this at all and end up searching old emails to find which registrar it's at. And each registrar has different processes, along with things to avoid — like dark upselling patterns and schemes that encourage clicking the wrong thing. Plus the process of moving registrations from one registrar to another is complicated and opaque. It can quickly get overwhelming. We wanted to make it easier.
Now you can link your GoDaddy account to DNSimple, see all your domains side-by-side, and take advantage of features, like DNS hosting, domain registration, renewal, email forwarding, name servers and certificates. You can set auto-renewal and never worry about missing a renewal email again, and use our free WHOIS privacy to redact your public information. And as a bonus, you'll never have to deal with the convoluted, upsell-hell of the Godaddy interface again.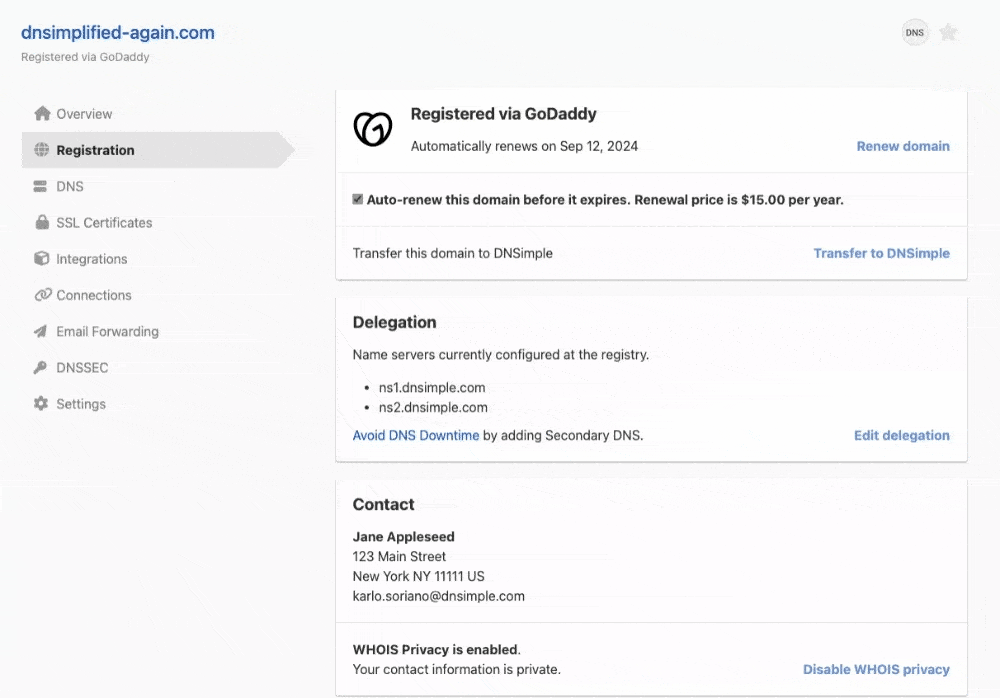 Link your GoDaddy domains
Head over to your Accounts, and select Integrated Providers. Click Link next to GoDaddy, and enter the info for your GoDaddy API Key. There are also instructions on the page on how to create the API Key. From there, your Godaddy domains will appear alongside all your DNSimple domains. Our latest video gives you an overview of the whole process.
Our new Notification Center also helps you monitor your domains by keeping you in the loop when background operations are working on your behalf. With our GoDaddy release, you can use the Notification Center to find out if a domain has been imported into your account or if something went wrong in the process.
What's next?
We're working on our Domain Control Plane to support domain registrations across multiple cloud DNS vendors, bringing you a single pane of glass for your DNS and domain management. Have other providers you'd like to see us add? Cast your vote on the account integrations page, or drop us a line with your suggestions.
Take a look at our support articles for more on managing your domains with our Integrated Providers. If you have any questions or want to talk more about your DNS management needs, get in touch — we'd love to hear from you.
Not using DNSimple yet? Give us a try free for 30 days, and experience how simple and streamlined your domain management can be.
Dallas Read
Dream. Risk. Win. Repeat.
We think domain management should be easy.
That's why we continue building DNSimple.
Try us free for 30 days

4.3 out of 5 stars.
Based on Trustpilot.com and G2.com reviews.