Features
Revamping our referral program
Laetitia Eden
on
As a marketer in a company, your goal is to increase your customer base. Reading all the stories on the web about how companies were hugely successful with their referral programs made us want to go back to our own referral program and take a closer look at what was going on there.
First we took a look at the data and figured out how many referrals were successfully applied per month and per year. We analyzed the data and found that our old program never stopped resulting in referrals, it just became less visible over time as we focused on other parts of the DNSimple site.
What the data also showed us is that our referral program was quite successful in the company's early days. We had big influencers that helped us grow our customer base. Then, like may businesses, we set the referral program to the side while the team had to focus on other tasks. Given that the program was previously successful, we decided to revamp and relaunch our referral program. Here are some some of the things we've been reflecting on since taking on this project.
Referrals are powerful, but require trust
When you are in a tech business, word of mouth is a very important way to get new customers. Both Twitter and Facebook help a lot, and in a way are at the first step of a referral program. If I am willing to vouch for a product, I am putting my reputation on the line, yet I am not getting any benefits from a reward program if I'm just tweeting or posting about the product. Some people do give us free publicity, but we wanted to put back the notion of sharing the trust you have in our product but also get something back in exchange.
The relationship between people and businesses in a referral program is a dream come true: I am willing to vouch for a company to my friends, they use the service; we all get a reward and the business gets new customers. It's a perfect business world.
The impact of a customer telling a friend to try out our service because they trust us can not be compared to any other marketing message.
What changed between the old referral program and the new version
Once we decided to work on revamping the referral program, we had to decide if we'd write the code ourselves or use a third-party service to implement it. In our case, we decided to clean up the code that was already there and not outsource the referral program. Of course that means we needed a team dedicated to the project: a designer, a developer, and a marketer.
We worked a lot on the visual appeal of the project. We created a new banner, developed a slogan, added our two mascots, and improved the use of color. We tried to capture the attention of the users so they see and share their referral code.
In the old version, we had a simple heart with the text "share the love for dnsimple":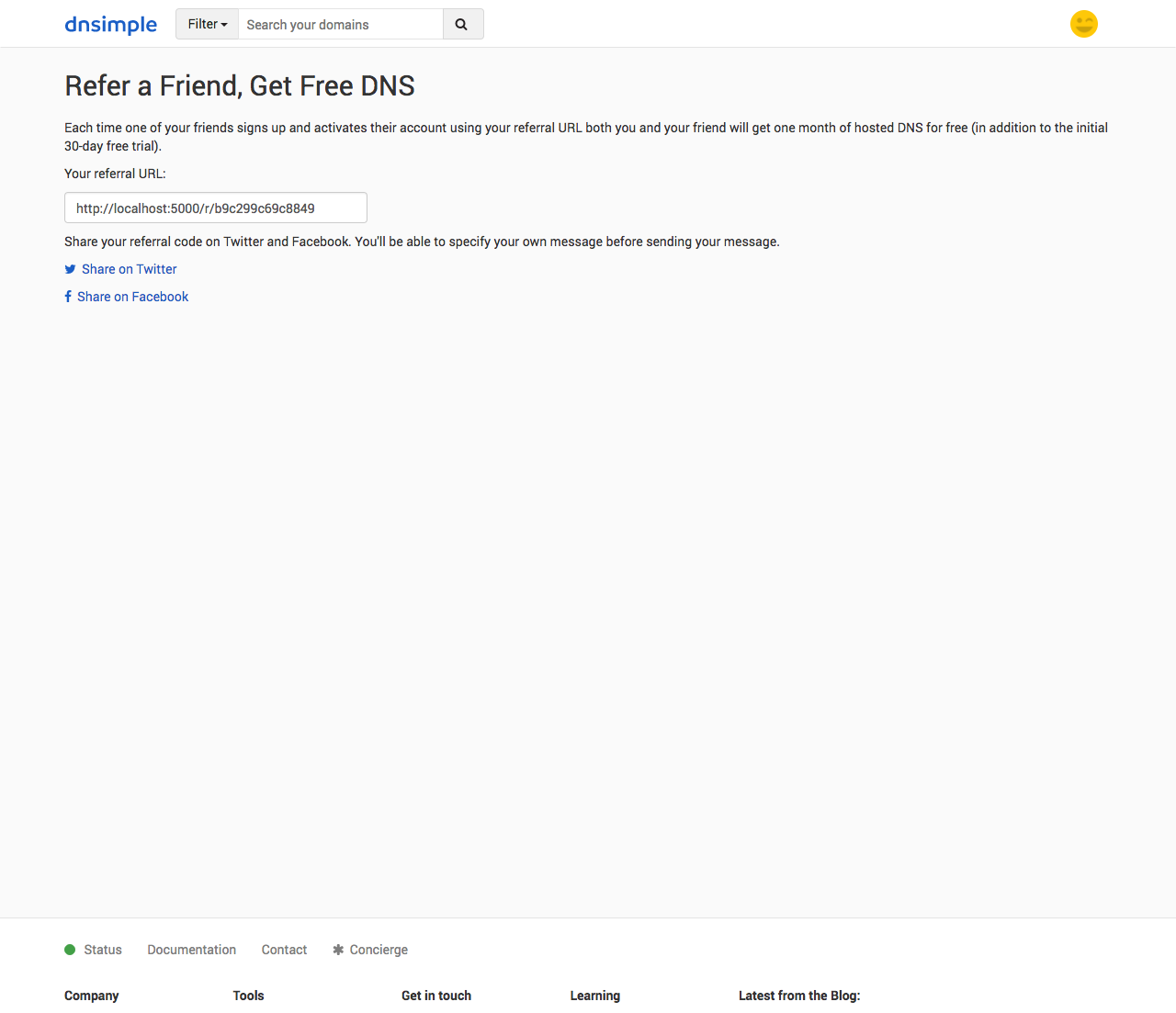 The new version is much more colorful and inviting: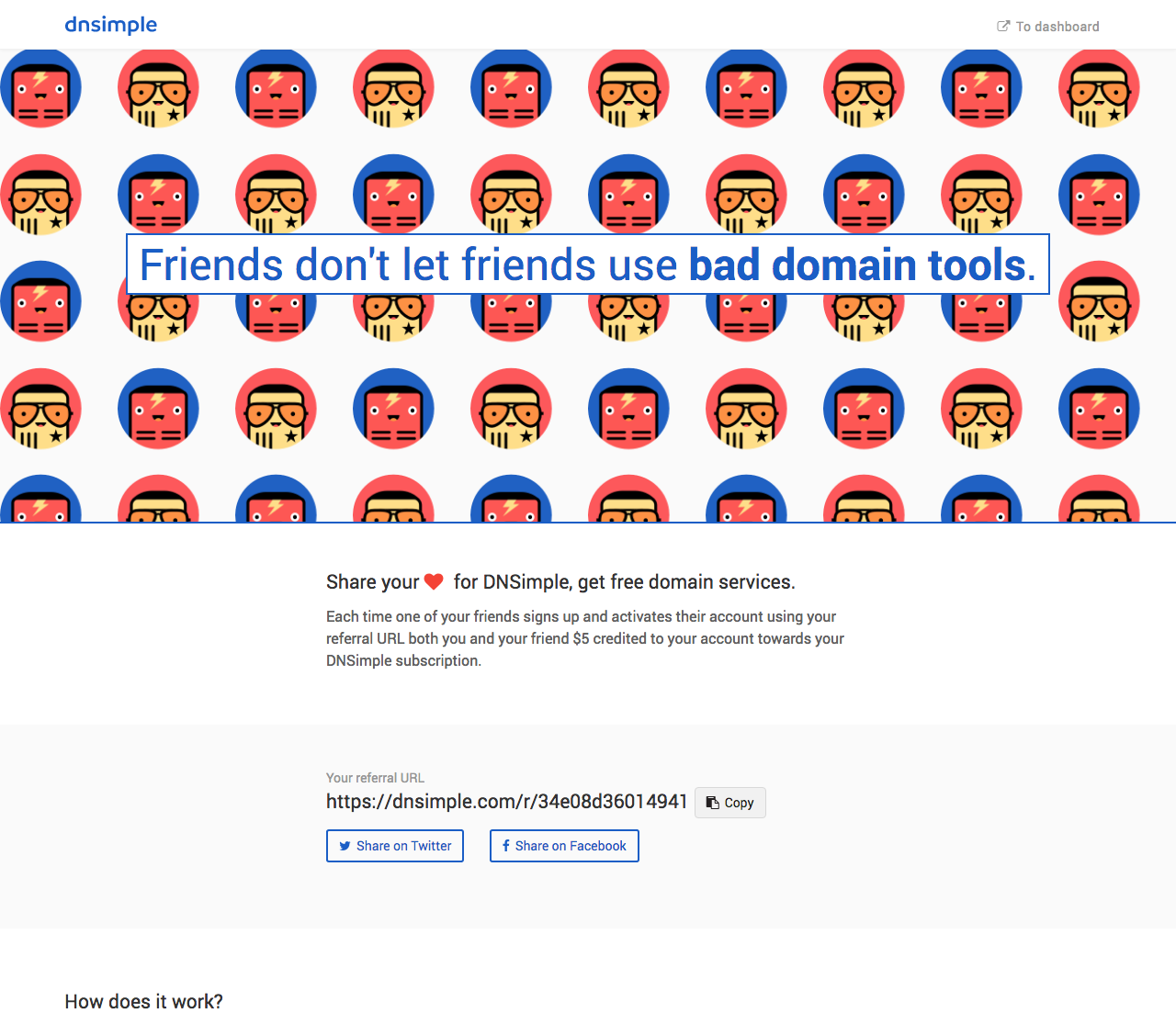 We also worked on social media cards on Facebook or Twitter, things that we didn't have before. We used to have just a sentence but now we have that beautiful twitter card: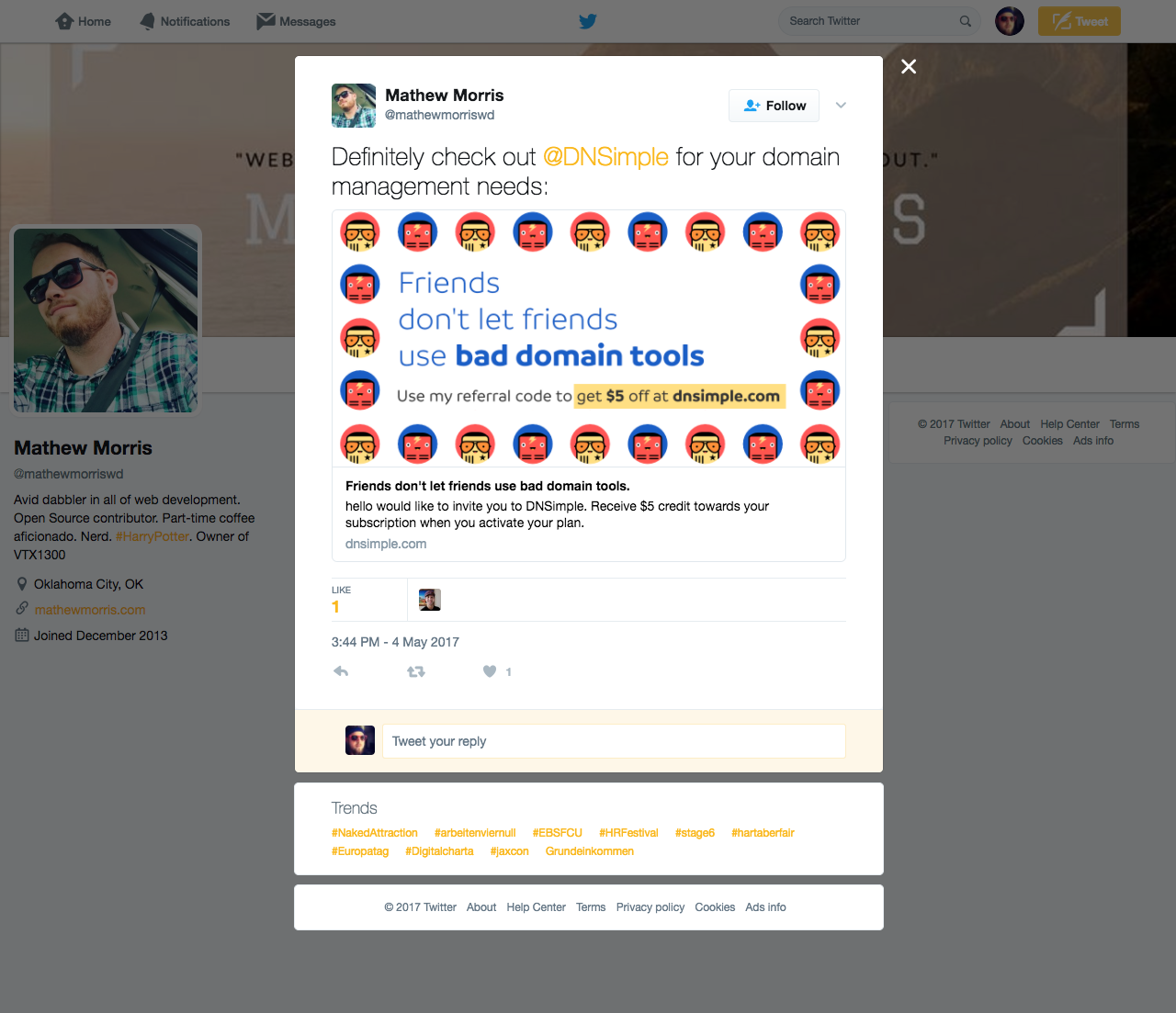 Choosing the reward was not an easy task. For now, we chose to offer 5 dollars off your subscription. It's a simple solution to start with. We are going to be attentive of our users and we will brainstorm to find other incentives that our program could take into consideration.
How did we create customer awareness regarding the revamp referral program
We used social media—Twitter and Facebook, as well as internal things such as the writing of this blog post. We also chose to position a message about the referral program in some of our transactional emails, along with making it visible on the account page of customers. Lastly, we wrote a documentation page and a landing page that explain the benefits of our program. The goal was to make it visible but not overbearing.
We also developed a card on the account summary page that shows the number of referrals sent and their status. The idea is to make it more obvious the benefit that you get when you send referral links. We will also be trying a small email campaign for certain customers to try to increase the rate of the use of referrals.
Conclusion
This referral program is in process and it's only the first step of the revamp. I imagine that it will evolve according to the reaction we get from our customers. Ultimately our goal is to give customers the chance to get something valuable for less, while sharing the DNSimple service with people they know.
Laetitia Eden
Le bonheur ne s'achète pas mais on peut acheter du fromage et c'est presque pareil!
We think domain management should be easy.
That's why we continue building DNSimple.
Try us free for 30 days

4.3 out of 5 stars.
Based on Trustpilot.com and G2.com reviews.