Features
How To Auto-Import DNS
Sebastian Hermida
on
If you've ever switched DNS providers, you know what a huge pain setting your DNS back up can be. With most services, you have to manually enter the data from the DNS records you want to import, which means entering multiple DNS records per domain. If you have more than one domain, it adds up fast. A lot of copying and pasting, the potential for a good amount of downtime, and of course the chance you might miss something. It sucks.
As one of our customers pointed out
it's really easy to mis-copy your DNS records and you end up having some potential downtime because you copied something wrong.
So we automated it.
When you import your DNS records to DNSimple, all you have to do is enter the URLs for your domains and sub-domains. No more copy/pasting DNS records. We scan the existing records for your domain and let you import them all at once.
We'll prompt you to auto-import DNS records when domain transfer is about to start, or when you're adding a domain for DNS management.
You can auto-import all the A, AAAA, CNAME, MX, and TXT records for your domain by clicking on Auto-import DNS from the record editor. We automatically look for the most common subdomains - like www, blog, and email.
We auto-import everything we can find, but if we missed something, you can manually add it at the bottom of the form. When you see that all the necessary records are listed, click "Import DNS records" to add them to your domain zone. That's it.
And you don't have to worry about conflicting reports - we won't override them. You have to manually approve it. We'll show you both records, and you choose the correct one for your needs.
This is just the jumping off point for your relationship with DNSimple. It starts with effortless importing, and only gets better from there.
Here is a quick preview of our auto-import demo on DNSimple's home page.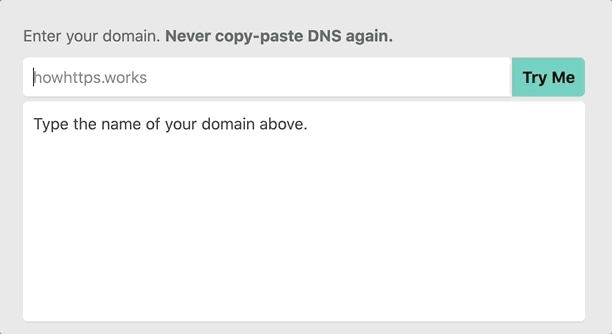 We cannot wait for you to try it out and let us know if you have any feedback!
Sebastian Hermida
Appreciates the finest things in life: clean code, good illustrations and carrot juice. Someday he will run a marathon.
We think domain management should be easy.
That's why we continue building DNSimple.
Try us free for 30 days

4.3 out of 5 stars.
Based on Trustpilot.com and G2.com reviews.